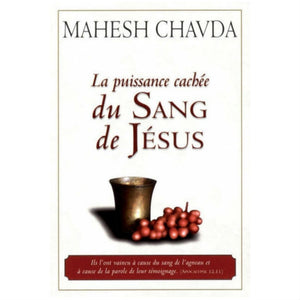 Lorsque nous oublions la puissance du sang, nous oublions la puissance de ce qui fait notre identité. Beaucoup de chrétiens n'ont jamais eu la révélation des grandes vérités classiques sur lesquelles l'Église de Jésus-Christ se fonde. L'objectif et la puissance du sang de Jésus sont au nombre de ces vérités oubliées. Peu d'entre nous ont fait l'expérience de la réalité de ces mots dans notre vie quotidienne.
Chavda nous évoque avec passion cette pierre d'angle précieuse pour nos vies chrétiennes. Il nous offre une étude théologiquement solide mais aussi galvanisante, qui mettra le sang à l'œuvre comme le voulait Jésus. Chavda transformera votre façon de concevoir le sang de Jésus en le sortant de son contexte théologique poussiéreux et le rendra efficace pour votre marche de tous les jours.

Mahesh Chavda est le fondateur et le pasteur principal de l'église de Toutes les Nations à Charlotte, en Caroline du Nord. Évangéliste internationnal, Mahesh et sa femme Bonnie ont conduit à Christ plus de 700 000 personnes dans le monde entier. Ils supervisent aussi le mouvement mondial de prière "Watch of the Lord" et dirigent des conférences de formation qui enseignent aux chrétiens à faire les œuvres de Jésus et à se laisser guider par l'onction du Saint-Esprit. Les Chavda et leurs quatre enfants résident à Charlotte, en Caroline du Nord.
ISBN: 9782922777185