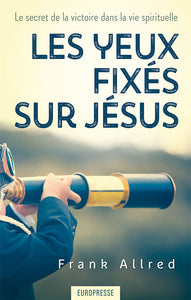 The secret of victory in the spiritual life
The more the believer fixes his gaze on his Lord, the more precious the latter will be to him, and the more the life of this disciple will be centered on Christ. This is the secret that lies at the heart of a life that honors God.
Today it is more common for those who claim to bear the name of Christ to look for some miracle recipe or trick that will bear fruit immediately and, if possible, without pain or effort, with a good dose of pleasure. This path only leads to disillusionment and failure.
Therefore, Frank Allred exhorts his reader to make every effort to become ever more aware of the glory of Christ, as well as the privileges which, in him, belong to the believer. It is necessary to grasp the wonderful destiny that awaits the Christian beyond this life. The eternal bliss that flows from the very presence of God in a new world where there is no longer sin or death.
If the believer wants to grow in his intimate knowledge of Christ (which is certainly the desire of every authentic Christian), he must immerse himself in the Bible because it is in it that all the motivation necessary to keep his eyes is found fixed on Jesus. And the joy of such a path is such that the one who experiences it overflows with love for his Savior.
Author: Frank Allred
ISBN: 9781914156038