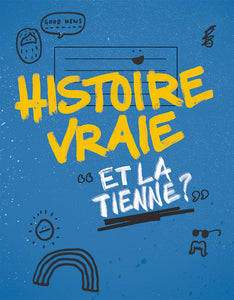 And yours ?
When Julien found himself in the middle of the pond behind the school, it was difficult to pretend that it had been an accident. In any case, it allowed us to agree on one point: human beings do not walk on water.
So… what are you supposed to do with a man who did it? A man who also healed the sick, gave sight to the blind, and came back to life after being dead for three days?
Drawing on the funny moments of his school days, Pete Brown introduces us to the person who had the greatest impact on his life... not the big schoolyard bully, but Jesus Christ.
This book explores some of the questions that were running through Pete's head during math class: Is there a God? How can I know if Jesus' story is true? And what could it change in my life?
True story is ideal for any young person looking for answers to life's big questions. Its familiar, interactive style is an engaging introduction to what Christians believe about the true meaning of life.
Author: Pete Brown
ISBN: 9782850318825