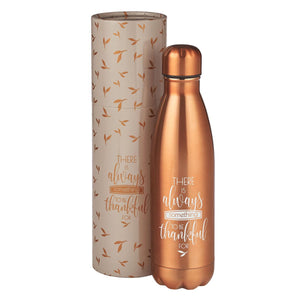 (French description to follow)
This sleek bronze water bottle reminds you that there is always something to be grateful for in your life. With its distinctive bronze metallic look, this stylish water bottle sets itself apart from the ordinary plastic bottles. It is perfect for on the go use as you run to the gym, take hot beverages to the office or have ice cold water in your car as you run errands. The message of gratitude has a lovely sentiment for gift-giving to encourage a friend, a small group member or just to say "thank you" to someone who has helped you along the way.

This eco-friendly bottle has a 17-ounce capacity to reduce fewer runs to the water cooler. The double-walled construction of this multi-purpose bottle prevents condensation on its exterior as it keeps your favorite hot or cold beverage at serving ideal temperature all day while its surface stays cool to the touch. The twist-on lid has a silicone ring that ensures a snug fit to make the bottle leak-proof and help retain the internal temperature. Safety and Use Instructions Included.

Capacity: 17 fl oz
Size: 10.5" x 2.8" x 2.8"
Stainless Steel, Double Walled
Vacuum Sealed Flask For All Day Hot or Cold Insulation
Eco-Friendly Non-Toxic
Silicone Ring Twist On Insulated Lid
Hand Wash Only
Packaged in Gift Box
________________________________________________________________________________
This elegant bronze water bottle reminds you that there is always something to be grateful for in your life. With its signature bronze metallic look, this stylish water bottle stands out from ordinary plastic bottles. It's perfect for use on the go, when you run to the gym, bring hot drinks to the office, or grab ice water in your car when running errands. The gratitude message has a beautiful gift sentiment to encourage a friend, a member of a small group or simply to say "thank you" to someone who has helped you along the way.

This eco-friendly bottle has a capacity of 17 ounces, which helps reduce the number of trips to the water fountain. The double-walled construction of this versatile bottle prevents condensation on its exterior as it keeps your favorite hot or cold beverage at the ideal serving temperature all day long, while its surface remains cool to the touch. The screw-on lid features a silicone ring that ensures a snug fit to make the bottle leak-proof and help maintain internal temperature. Safety and usage instructions included.
Capacity: 17 fl oz
Size: 10.5" x 2.8" x 2.8
Stainless steel, double wall
Vacuum sealed bottle for all-day thermal or cold insulation
Environmentally friendly and non-toxic
Insulating lid with screw-on silicone ring
Hand wash only
Packed in a gift box


ISBN: 6006937138346