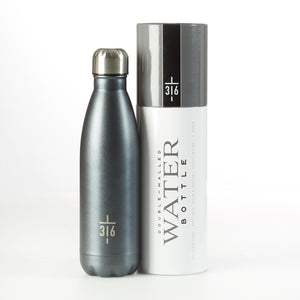 (Description française à suivre)
"For God so loved the world that he gave his one and only Son, that whoever believes in him shall not perish but have eternal life." John 3:16

Remind your husband, father-in-law, or nephew of the powerful truth of John 3:16 by giving them the John 316 Cross Stainless Steel Water Bottle. This sleek matte charcoal water bottle is a must-have for bringing to class, the gym, or on a road trip with the family. The subtle symbol of the cross will inspire him and the people in his life to remember and honor Jesus, who gave His life for theirs.

The John 316 Cross Water Bottle comes in a matte charcoal color and stainless steel, and is a premium double-walled, vacuum-sealed bottle created for all-day hot or cold insulation. The "316" design is featured on the bottom of the John 316 Water Bottle.

Capacity: 17 fl oz 
Stainless Steel in Matte Charcoal
Double-walled
Vacuum-sealed Bottle For All-day Hot or Cold Insulation
Stay-cool Bottle for Hot Beverages
Non-sweating Bottle for Iced Beverages
Not Dishwasher, Microwave, or Freezer Safe
Packaged in a Cylinder Gift Box
________________________________________________________________________________
"Car Dieu a tant aimé le monde qu'il a donné son Fils unique, afin que quiconque croit en lui ne périsse pas mais ait la vie éternelle." Jean 3:16

Rappelez à votre mari, beau-père ou neveu la puissante vérité de Jean 3:16 en leur donnant la bouteille d'eau en acier inoxydable John 316 Cross. Cette bouteille d'eau en acier inoxydable mat est indispensable pour les cours, la gym ou les voyages en famille. Le symbole subtil de la croix l'inspirera, ainsi que les personnes qui l'entourent, à se souvenir et à honorer Jésus, qui a donné sa vie pour les leurs.

La bouteille d'eau John 316 Cross est de couleur charbon mat et en acier inoxydable. Il s'agit d'une bouteille de qualité supérieure à double paroi, scellée sous vide et conçue pour une isolation thermique ou frigorifique tout au long de la journée. Le motif "316" figure sur le fond de la bouteille d'eau John 316.
Capacité : 17 fl oz
Acier inoxydable dans du charbon de bois mat
Double paroi
Bouteille sous vide pour l'isolation thermique ou frigorifique de toute la journée
Bouteille Stay-cool pour boissons chaudes
Bouteille non suante pour boissons glacées
Ne passe pas au lave-vaisselle, au micro-ondes ou au congélateur
Emballé dans une boîte-cadeau cylindrique


ISBN: 1220000135871