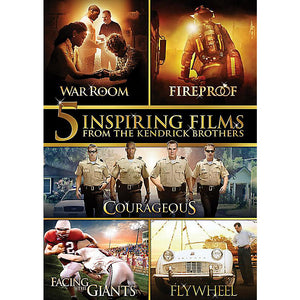 (Description française à suivre)
This value pack from the Kendrick brothers includes five hope-filled, heartfelt, feature-length films: War Room, Courageous, Fireproof, Facing The Giants, and Flywheel.
War Room:
Language: English, French, Spanish
Subtitles: English, French Spanish
From the award-winning creators of Fireproof and Courageous comes WAR ROOM, a compelling drama with humor and heart that became the #1 movie in US theaters and received raving reviews from audiences of all ages. Tony and Elizabeth Jordan have it all-great jobs, a beautiful daughter, and their dream house. But appearances can be deceiving. Their world is actually crumbling under the strain of a failing marriage. While Tony basks in his professional success and flirts with temptation, Elizabeth resigns herself to increasing bitterness. But their lives take an unexpected turn when Elizabeth meets her newest client, Miss Clara, and is challenged to establish a "war room" and a battle plan of prayer for her family. As Elizabeth tries to fight for her family, Tony's hidden struggles come to light. Tony must decide if he will make amends with his family and prove Miss Clara's wisdom that victories don't come by accident.
Fireproof:
Language: English, Spanish
Subtitles: English, French Spanish, Portugese, Chinese
Kirk Cameron (Left Behind) stars as Caleb Holt, a heroic fire captain who values dedication and service to others above all else. But the most important partnership in his life, his marriage, is about to go up in smoke. This gripping story follows one man's desire to transform his life and marriage through the healing power of faith and fully embrace the fireman's code: Never Leave Your Partner Behind.
Courageous:
Language: English, Spanish
Subtitles: English, French Spanish, Portugese, Chinese, Korean, Thai
As law enforcement officers, Adam Mitchell, Nathan Hayes and their partners willingly stand up to the worst the world can offer, yet at the end of the day, they face a challenge that none of them are truly prepared to tackle: fatherhood. While they consistently give their best on the job, they quickly discover that their children are beginning to drift further away from them. When tragedy hits home, these men are left with a newfound urgency to renew their faith and reach out to their own children. Will they be able to find a way to serve and protect those who are most dear to them?
Facing The Giants:
Language: English, French, Spanish, Portuegese, 
Subtitles: English, French Spanish, Portugese, Chinese, Thai
In six years of coaching, Grant Taylor has never led his Shiloh Eagles to a winning season. After learning that he and his wife Brooke face infertility, Grant discovers that a group of fathers are secretly organizing to have him dismissed as head coach. Devastated by his circumstances, he cries out to God in desperation. When Grant receives a message from an unexpected visitor, he searches for a stronger purpose for his football team. He dares to challenge his players to believe God for the impossible on and off the field. When faced with unbelievable odds, the Eagles must step up to their greatest test of strength and courage.
Flywheel:
Language: English
Subtitles: English, French Spanish
Jay Austin wants to sell you a used car, but watch out! Many victims have fallen prey to his smiling face and hasty promises. Austin does everything his way until his dishonesty and manipulation are repeatedly exposed. Like many men, the masks he wears and lies he tells disgust him. While having a classic convertible repaired, Austin begins a humorous and inspiring journey to win back the hearts of his wife, his son and his community. In every man's life, there can be a turning point. When Jay Austin makes his turn, he never looks back.
___________________________________________________________________________________________
Ce pack de valeur des frères Kendrick comprend cinq longs métrages pleins d'espoir et de cœur : War Room, Courageous, Fireproof, Facing The Giants et Flywheel.

War Room :
langue : Anglais, français, espagnol

Sous-titres : anglais, français, espagnol
Les créateurs primés de Fireproof et Courageous ont créé WAR ROOM, un drame captivant avec de l'humour et du cœur qui est devenu le film n°1 dans les salles de cinéma américaines et a reçu des critiques élogieuses du public de tous âges. Tony et Elizabeth Jordan ont un travail formidable, une fille magnifique et la maison de leurs rêves. Mais les apparences peuvent être trompeuses. Leur monde s'écroule en fait sous la pression d'un mariage en faillite. Alors que Tony se réjouit de sa réussite professionnelle et flirte avec la tentation, Elizabeth se résigne à une amertume croissante. Mais leur vie prend un tournant inattendu lorsqu'Elizabeth rencontre sa nouvelle cliente, Miss Clara, et est mise au défi d'établir une "salle de guerre" et un plan de bataille de prière pour sa famille. Alors qu'Elizabeth tente de se battre pour sa famille, les luttes cachées de Tony sont mises en lumière. Tony doit décider s'il va faire amende honorable auprès de sa famille et prouver la sagesse de Miss Clara, qui veut que les victoires ne soient pas le fruit du hasard.

Fireproof :
langue : Anglais, Espagnol

Sous-titres : anglais, français, espagnol, portugais, chinois
Kirk Cameron (Left Behind) joue le rôle de Caleb Holt, un capitaine de pompiers héroïque qui valorise par-dessus tout le dévouement et le service aux autres. Mais le partenariat le plus important de sa vie, son mariage, est sur le point de partir en fumée. Cette histoire captivante suit le désir d'un homme de transformer sa vie et son mariage grâce au pouvoir de guérison de la foi et d'embrasser pleinement le code des pompiers : Ne laissez jamais votre partenaire derrière vous.

Courageous: 
langue : Anglais, espagnol

Sous-titres : anglais, français, espagnol, portugais, chinois, coréen, thaïlandais
 En tant qu'agents des forces de l'ordre, Adam Mitchell, Nathan Hayes et leurs partenaires se dressent volontiers contre le pire que le monde puisse offrir, mais au bout du compte, ils sont confrontés à un défi qu'aucun d'entre eux n'est vraiment prêt à relever : la paternité. Bien qu'ils donnent constamment le meilleur d'eux-mêmes dans leur travail, ils découvrent rapidement que leurs enfants commencent à s'éloigner d'eux. Lorsque la tragédie frappe leur foyer, ces hommes se retrouvent face à une nouvelle urgence de renouveler leur foi et de tendre la main à leurs propres enfants. Seront-ils capables de trouver un moyen de servir et de protéger ceux qui leur sont les plus chers ?

Facing the Giants: 
langage : Anglais, français, espagnol, portugais,

Sous-titres : anglais, français, espagnol, portugais, chinois, thaï
En six ans d'entraînement, Grant Taylor n'a jamais mené ses Shiloh Eagles à une saison gagnante. Après avoir appris que lui et sa femme Brooke sont confrontés à l'infertilité, Grant découvre qu'un groupe de pères s'organise secrètement pour le faire licencier comme entraîneur principal. Dévasté par sa situation, il s'adresse à Dieu en désespoir de cause. Lorsque Grant reçoit un message d'un visiteur inattendu, il cherche un but plus fort pour son équipe de football. Il ose mettre ses joueurs au défi de croire en Dieu pour l'impossible sur le terrain et en dehors. Face à des chances incroyables, les Eagles doivent passer leur plus grande épreuve de force et de courage.

Flywheel :
langage : Anglais :

Sous-titres : anglais, français, espagnol
Jay Austin veut vous vendre une voiture d'occasion, mais attention ! De nombreuses victimes sont tombées sous le charme de son visage souriant et de ses promesses hâtives. Austin fait tout à sa manière jusqu'à ce que sa malhonnêteté et sa manipulation soient maintes fois dénoncées. Comme beaucoup d'hommes, les masques qu'il porte et les mensonges qu'il raconte le dégoûtent. Alors qu'il fait réparer une décapotable classique, Austin entame un voyage humoristique et inspirant pour regagner le cœur de sa femme, de son fils et de sa communauté. Dans la vie de tout homme, il peut y avoir un tournant. Quand Jay Austin fait son tour, il ne regarde jamais en arrière.

ISBN: 194397817997