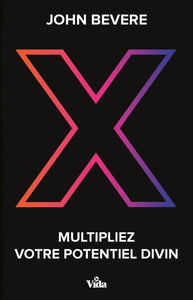 Do you ever feel like a spectator in the kingdom of God? Maybe you know there's something you should do, but you can't say what. Most of us want our lives to have meaning and impact, but we struggle with all kinds of questions such as:
How can I be sure that I'm not missing out on God's will for me?
Can my special gifts be useful for the kingdom of God?
How can I live up to the potential that God has entrusted to me?
Is pastoral ministry the only one possible in the Church?
How do I overcome fear and move forward, even when it feels uncertain and risky?
In this profound book, acclaimed author John Bevere meticulously explores Scripture and uses powerful stories to look at your calling differently and understand why it matters to God. Throughout the pages, you will have the opportunity to multiply the gifts that God has given you and realize your potential.
If you are ready to move from inaction to ambitious goals, then this book is for you.

"Let us give ourselves without reservation and offer ourselves to God, like an offering… This is how we fully enjoy our existence and experience life in its fullness." -John Bevere
Author: John Bevere
ISBN: 9782847003550