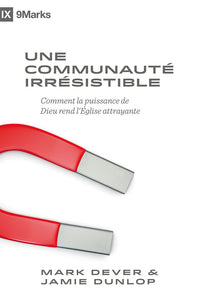 How God's Power Makes the Church Attractive
What does a community that testifies to the power of God look like?
God's people are called to a unity and commitment that transcends natural boundaries – whether ethnic, generational or economic. Such a community can only exist if it depends on the power of God manifested in the Gospel.
In Irresistible Community , Pastors Mark Dever and Jamie Dunlop present a captivating vision of authentic community within the local church – one that goes far beyond simply forming small groups. Full of biblical principles and practical advice, this book will prove helpful to pastors who want to transform their congregation into a community that glorifies God, edifies his people, and attracts the lost.
"I read this book at a time when I was quite discouraged in my ministry. This is without a doubt one of the best books about the Church I have ever read, because it helped me rediscover my congregation from the perspective of Christ. I was amazed. Caught up in my daily life, I had lost sight of the fact that the Church's mission is to make the Gospel tangible. »
Raphaël Charrier , pastor of the Evangelical Christian Church of Grenoble; blogger on toutpoursagloire.com; co-host of the Memento Mori podcast

"The book you hold in your hands will excite you, if you love Christ and his Church! Each chapter of the book is full of good tools and practical ideas to help us nurture a community that manifests the power of the gospel to the world. Read it. Let yourself be convinced. And expect your vision of the Church to expand! »

Joël Favre , pastor of the Reformed Baptist Church of Grésivaudan, Grenoble
Authors: Mark Dever and Jamie Dunlop
ISBN: 9782924595978