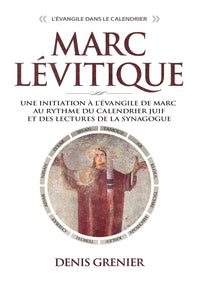 An introduction to the Gospel of Mark to the rhythm of the Jewish calendar and synagogue readings.
And if it were possible to return to the road to Emmaus with the disciples of Jesus and to hear this presentation by Moses and the Prophets in accordance with the Gospel! And to receive this happy Announcement as its first listeners received it! To do this we would need to reread the Scriptures at the rhythm of the Jewish community and its calendar, and be able to connect each of Moses' readings to the portion of the gospel that was served to the first "learners". However, recent research on oral pedagogy allows us to reinscribe the Gospel of Mark into the calendar and the Bible reading program of its original community. It is then possible to repeat the initiatory journey of the first disciples of Jesus, who were Jewish, and to revisit with them Moses and the Prophets to receive the interpretation of everything found there and which concerns the Messiah.
The author offers a commentary on all of Leviticus, in perfect synchronism with the first chapters of the Gospel of Mark. Sometimes the Torah illuminates a word of the Gospel, sometimes it is the Gospel which ignites a word of the Torah. To embark on this journey is to immerse oneself in the universe of meaning of the Hebrew Bible, while discovering the beauty and truth of the Annunciation of Jesus Christ in its multiple dimensions.
Author: Denis Grenier
ISBN: 9782980837210