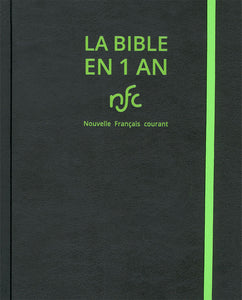 New French Current Version (NFC)
Black soft cover
The Bible in 1 year invites you to read the Bible on a regular basis.
The 1 Year Bible helps meet the challenge of daily reading by offering you a variety of texts each day - an excerpt from the Old Testament, a Psalm, a quote from the book of Proverbs and a passage from the New Testament.
Writing margins allow you to add thoughts, questions or prayers that the biblical texts inspire in you.
We invite you to read the entire Bible in a contemporary, fluid and reliable translation, that of the New French Current Bible (2019)
EDITION WITHOUT THE DEUTEROCANONICAL BOOKS
Hard bound, 2 ribbon bookmarks, 16x20 cm, 1344 pages
ISBN: 9782853007641