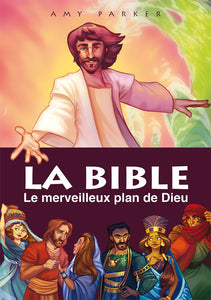 God's Wonderful Plan
From the beginning, God's plan was to be with his creation and enjoy perfect joy and love forever. This plan was shattered when sin arose and a chasm opened, separating man from God. This divide took centuries to bridge and required the ultimate sacrifice of God's only Son, Jesus Christ. This Bible follows God's plan of redemption and salvation from Genesis to Revelation and reveals how God, in His infinite goodness and mercy, has made a path for His creation to be reunited with Him again for life. 'eternity.
Each chapter ends with a verse that emphasizes the main theme of the Bible story.
Text by Amy Parker & illustrations by Jacqui Davis
ISBN: 9782722203709