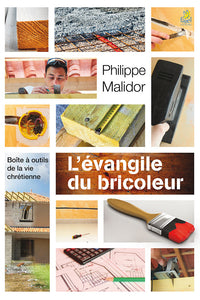 Christian Living Toolkit
"I fixed it…myself!"

No!… Tell me everything. »
Yes, men like to talk… about their passion. And behind these stories of engine adjustments, damaged fingers on an old workbench, bathroom tiles, lie deep spiritual truths.
A great handyman before the Lord, Philippe Malidor gives us fascinating anecdotes and, through them, talks to us about creation, failures, second chances and strong relationships. He simply speaks to us about the Gospel.
In a very original way, set off to discover the Christian life, with a screwdriver in hand!
Author: Philippe Malidor
ISBN: 9782863144107