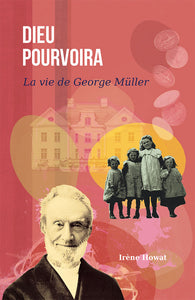 The life of George Müller
George Müller is one of the greatest English philanthropists of the 19th century. Concerned about the fate of orphans left to their own devices or in prison, he worked to house them, feed them and educate them. More than 10,000 of them passed through his 'houses'.
However, nothing predisposed this son of a Prussian civil servant, frivolous and spendthrift, to such a commitment. As a theology student, he was even imprisoned for debt at the age of sixteen. The memory of this dissolute youth allowed him to keep a cool head while God entrusted him with these great responsibilities.
This ministry was all the more remarkable because it was accomplished without any financial appeal. George Müller was content to present his needs to God, who honored his servant's prayer. It is estimated that he received the equivalent of 150 million euros without ever asking for anything. His motto was "If the Lord wants it, we want it too and we will do it." »
This book, which immerses us in 19th century England, shows us that God has the power to transform lives and that trust in his providence allows achievements that to human eyes seem impossible.
Author: Irene Howat
ISBN: 9782918495260