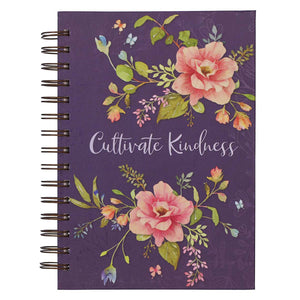 (French description to follow)
The
Cultivate Kindness Wirebound Journal
is a beautiful reminder that kindness is a choice we make every day. Our world doesn't always feel friendly, but choosing to be kind will make a difference in your life as well as others around you. Take the opportunity to journal thoughts about your day or week, make notes about moments you experienced kindness, or as an idea journal to jot down ways you can show kindness to others.
The journal cover has a beautiful dark blue background with a matte finish. The lettering on the title is strikingly simple
Cultivate Kindness
The dazzling pink and coral flowers are embossed and have a gloss finish, with the interior end sheets coordinating in brilliant pink color. The brass wire firmly holds 192 lined pages while allowing for a lay-flat writing experience. All of these details combine to make a stunning journal that is useful for every day!
Blue Background with Pink Floral Design

Large Hardcover Journal
Wirebound Journal
27 lb Bond Weight Paper (Slightly thicker than regular stationery paper)
192 Lined Pages
Full-color Cover
Embossed Cover with Matte and Gloss Finish
Packaged in Self-Seal Bag
Presentation Page
Size 8.4" x 6.4" x 1" (213 x 163 x 25mm)
_________________________________________________________________________________________
The Cultivating Kindness Wired Journal is a beautiful reminder that kindness is a choice we make every day. Our world isn't always friendly, but choosing to be kind will make a difference in your life as well as the lives of others around you. Take the opportunity to journal your thoughts about your day or week, make notes about times you showed kindness, or jot down ideas for how you could show kindness to others.


The journal cover has a beautiful dark blue background with a matte finish. The lettering of the title is strikingly simple


Cultivate kindness


The dazzling pink and coral flowers are embossed and have a glossy finish, with the inner end leaves coordinating in glossy pink. The brass wire holds the 192 lined pages firmly while allowing flat writing. All these details combine to form an amazing and useful daily journal!
Blue background with pink floral pattern
Large hardcover journal
Electronic journal
27-pound bond paper (slightly thicker than regular writing paper)
192 lined pages
Color cover
Embossed cover with matte and glossy finish
Packaging in self-closing bags
Presentation page
Size 8.4" x 6.4" x 1" (213 x 163 x 25mm)
ISBN: 9781642724295