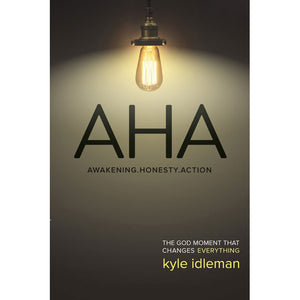 Author of the breakout bestseller Not a Fan, pastor and author Kyle Idleman reveals three vital ingredients—Awakening, Honesty, Action—that combine for lasting change.
We've all had "aha!" moments in our lives, a sudden revelation surprising us with insight. With everyday examples and trademark testimonies, Idleman draws on the parables of Jesus to reveal how three key elements can produce the same kind of "aha!" in our spiritual lives:
• Awakening to the reality of who we are in Jesus Christ
• Renewed Honesty to see our need for a Savior
• Inspired to Action, we obey God and follow Christ's example.
As we see in the transformation of the prodigal son, the result is a life- changing, destiny-altering collision—an AHA moment that leads us home to our loving Father.
ISBN: 9780781410496