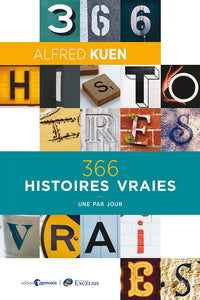 One per day
Alfred Kuen (1921-2018), well-known author of works touching on various biblical and theological fields, offers us here a collection of true stories in the form of daily readings, which we are publishing for the year which would have been that of his hundredth anniversary.
A professional teacher until his retirement, master of training of trainee teachers, then professor at the Emmaus Bible and Missionary Institute, he liked to illustrate his words with real-life examples.
Beyond their form, these stories present living examples linked to the teachings of the Bible. These situations we experience touch us because they resemble what we can experience ourselves. Some are close to our daily lives, others rather exceptional.
These stories resonate with our personal history, pointing to what we can experience with God, nourishing our faith and our understanding of ourselves and the world around us.
In this work, the day-by-day presentation allows us to have each story in its entirety, concentrated in a few lines, with a biblical passage as a reference. It's a nourishing menu, with just the right daily dose. It is also a valuable repository of stories for preachers, listed by themes and biblical passages.
Easy to read, this book can be put into everyone's hands!
Author: Alfred Kuen
ISBN: 9782940488414